---
Home
SOFTWARE
SlideDraw
SlideWidget
LsBrowse
Gscan
KeenView driver
Quadronegro
pppliga
Tiny Cobol
SQLforms
COURSE NOTES
Sys.Admin.
Tcl/tk
MISCELLANEOUS
GDI printers
gimp tutorial
tcl-guide
hardware projects
short commands
brazilian keyboard
personal info
html editing
favorite places
resume
ESSAYS
Chapeuzinho Vermelho
Linux Pernambuco
Why Linux?
Installfest
Day after
---
Programming with TinyCobol
Here is the original README for the compiler, when it was first released.
This is not a full-featured product, but rather historic sources of my own tool: a Cobol compiler I have done from scratch and found it floating around my "spare parts" box. It may be useful as a skeleton for a new projet, or just a grab bag of ideas for your own work. This is supposed to work with my "HandTerm" and "MT-100" microterminals, some hardware projects I used to manufacture some years agoł but it's not produced anymore.
I wouldn't even try to compile this sources again, because it's so dependent on the enviroment (microterminal, msdos, and specific C compiler) and I don't remeber how to make all things go smooth. Please don't ask me how to remake this.
Included there is a full compiler (almost ANS 76 compliant, if I remember well), the runtime library, and a nice source-level debugger written mostly in prolog. When compiled and linked, the object is a TSR (Terminate and Stay Resident) program for msdos.
Now our TinyCobol is usable and have its own homepage at http://tinycobol.org. As of October, 2001, our mailing list have about 180 subscribers and about a dozen people contributed to our code. A derivative of TinyCobol exists, the OpenCobol compiler, maintained by Keisuke Nishida, who is also a good contributor of our project.
Programmer tools
I have been writing several add-on tools for our cobol compiler. One of them is TCGUI, a visual editor and GUI generator. It outputs a copybook that you will include in your cobol source and have a graphical screen, instead of the traditional screen section.
TCGUI is a visual screen editor that allows you to introduce several tcl/tk widgets, without the need to know anything about tcl, only cobol. It generates a copybook with the definitions and a compressed tcl/tk program source that will show the GUI at execution time. The figure above show the editor tool with a entry box selected. The contents entered by the user will be available at a cobol variable that you choose (in this example, NAME).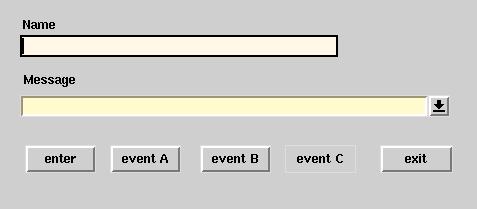 Several widget attributes may be modified during the design phase, just by clicking at a widget and filling the form at editor's main window. The attributes may also be modified by the cobol program during runtime.
Downloads
TCGUI may be found here. It requires tcl/tk 8.X.Y (tested with 8.0.0 and 8.3.2), and run under virtually any version of TinyCobol.
Other TinyCobol sites
Our collaborator Keiishi Takahashi maintain a web site with interesting examples of tcl/tk+Cobol code. He also builds and keeps updated several TinyCobol RPMs for rpm-enabled distros. Visit Keiishi's site.
OpenCobol is a derivative of TinyCobol written and maintained by Keisuke Nishida and some of his friends at Japan. He have made a good job of keeping it simple to install and easy to use.
The Cobol Report is an online magazine with many resources on free cobol, articles and other contents. I have written a couple of articles to them, and Tim Josling, leader of CobolForGcc project presents there free cobol matters frequently.
---
---